Date: April 27th, 2021
Time: 7:30-9:00 p.m.
Where: Online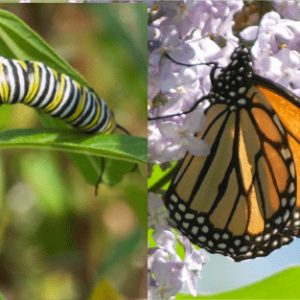 Presented by the Ottawa Horticultural Society
Butterflies come from caterpillars and caterpillars can only eat very specific plants. To attract adult butterflies, a garden needs to have good nectar-producing plants to feed the adults and, just as importantly, the specific native host plants for the next generation.
Speaker Trish Murphy will look at some of the diverse species of milkweeds that attract Monarch and some other garden-worthy wildflowers that nurture local butterflies, as caterpillars and as adults. (Photos provided by the speaker.)
Trish has been growing native plants for more than 20 years. She was on the board of the North American Native Plant Society and ran their annual plant sale for several years, and then the Seed Exchange for a couple more years. Renting 6 ft of heated greenhouse space in Toronto,
she produced hundreds of native plants for the annual sale. When she moved to the Ottawa area seven years ago, she immediately began growing native plants, and started selling her surplus at local Farmers Markets in western Quebec This quickly became Beaux Arbres Native Plants
nursery. She and her partner Michael have been vendors at the Experimental Farm's Mother's Day sale for 5 years, and at the Fletcher Wildlife Garden June Native Plant Sale for four years. In 2019 they joined the Westboro Ottawa Farmers Market, bringing a selection of plants to Ottawa in the spring and late summer. Trish has been a member of the Field Botanists of Ontario since 1997. She loves experimenting with new species and new germination techniques — the only drawback to growing plants is being too tied to the nursery to go on botanical field trips to see new species in the wild.
—————————
This presentation will be a free Webinar. There is no registration required. Please consider supporting the future activities of the OHS though renewing your membership or joining for $15/yr, or though a donation at https://ottawahort.org
How to view the presentation
https://www.youtube.com/channel/UCMkJSn2gaoejcGCdzK6xRWg
To join the presentation, please click on the YouTube link to go to the OHS YouTube Channel. To simply watch the presentation there is nothing else you need to do. The presentation will also be recorded and available at this link afterwards. The easiest way to find the channel is using the link; if you are on YouTube and do a search please use Ottawa Horticultural Society (we aren't the only ones that use OHS as an acronym!)
Starting the video
Once you are on the site, you must click on the rectangle of the video to start watching. Until 7:30 you will see a screen that says the presentation will begin at 7:30 p.m., so please be patient.