Date: June 18th, 2022
Time: 10 a.m. to 3 p.m.
Where: Kitchissippi United Church, 630 Island Park Drive, Ottawa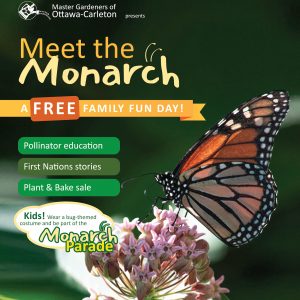 Rain or shine! Join this family day of fun with plants, pollinators, homemade baking, a kids' costume parade and mini-workshops organized by the Master Gardeners of Ottawa-Carleton (MGOC)
Learn about monarchs and other bugs, take home some pollinator plants and enjoy!
10 a.m.
If You Plant It They Will Come
The Monarch Teacher Network of Ottawa
Learn about how to create a garden for monarch butterflies and their friends,
including plants, location, soil and design.
10 a.m.
Pollinator Plant Sale
Purchase pollinator and native plants grown by our Master Gardeners.Sundaura, a local garden professional with a focus on native species and helping cultivate care-based land and plant relationships, will be selling a variety of both sun and shade loving native plant seedlings.
10 a.m.
Fairy Garden displays and Mini-Workshops
Learn how to make a fairy garden and listen to stories and legends about fairies and their pollinator partners.
Nature-themed art by Lapisdragonart is available for sale.
10 a.m.
Corner Pollinator Garden
Learn how to grow native plants and attract pollinators in your home or school garden. Berit Erickson has a wealth of first-hand knowledge and experience to share.
10:20 a.m. / 11:15 a.m.
Planting for Pollinators- Big Plants for Little Hands
Learn about some big plants that produce food for butterflies, bees and other helpful insects. Plant flower seeds and take them home.
10:30 a.m.
Native Stories About Native Plants – Storytelling about Monarchs and Native Plants
First Nations speakers share stories, legends and beliefs about native plants and animals, including the story of the monarch butterfly.
10:30 a.m./ 11 a.m./1:45 p.m.
Tour of the Alcove Garden
A tour of a native plant garden by Master Gardeners of Ottawa-Carleton
11 a.m.
MGOC's Flying Bake Sale
A bake sale with edibles shaped or decorated as butterflies, bees and other pollinators.
Noon
Ottawa Wildflower Seed Library will talk about their collection of seeds and share them.
1 p.m.
Wings: A Children's Bug Parade
All children are welcome to participate in costume. Come learn the bee 'Waggle Dance'
1:45 p.m.
Children's Stories in the Garden
Mr. Toad and Friends – The launch of a new children's book about Charlotte and her wildlife garden. Original woodprints used in this book will be on sale. Other art items will be
donated in a silent auction. A draw for prizes will be held.Grandma Lisa's Humming, Buzzing, Chirping Garden

The Bug Girl (A Real Story)

Plus: Meet a Real Entomologist!

2:45 p.m.
Monarch Theatre
A short play about Monarch Butterflies produced by The Monarch Teacher Network of Ottawa
2:45 p.m.
Winner of Monarchs and Friends: A Young Gardener's Pollinator Garden Design Contest
Prizes will be awarded to young gardeners, based upon submissions sent to MGOC, including drawings and a short description of the garden.
All day
Ask the Master Gardener: Advice Table
Have a garden question? Ask a Master Gardener. Free advice.Participate in the silent auction and shop for homemade nature-themed gifts.
Even though there is no charge for attending, donations to Master Gardeners of
Ottawa-Carleton are gratefully accepted. Purchases can be made using cash or electronic payment.