Date: September 29th, 2023
Time:
Where:
Free webinar, presented by the Canadian Wildlife Federation
Monday, 27 September, 7-8 pm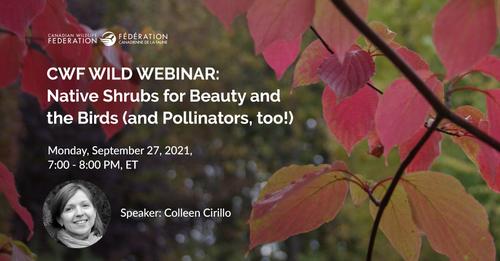 Join the Canadian Wildlife Federation and guest presenter, Colleen Cirillo, to discover the beauty and functionality of Canada's native shrubs. Delicate flowers, showy fruit and colourful fall leaves make these smaller woody plants ideal additions to any garden. But you will get so much more than beauty. These plants will also attract and support a diversity of native insects and birds, thereby helping you counter biodiversity loss right outside your door. Colleen has spent many years in the world of native and invasive plants, nature education, and on the ground stewardship. She is thrilled to share her love of the often-overlooked native shrubs with us.
REGISTRATION (free)