Date: October 6th, 2019
Time: 1:30 to 3:30 pm
Where: Horticulture Building at Lansdowne Park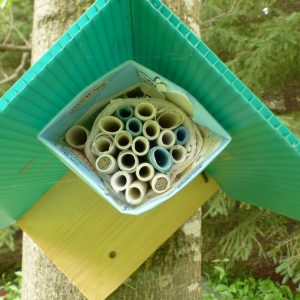 What can you do to help pollinators? Join us at Tree Fest and learn how to make a bee box that works for Mason Bees, the pollinators of our early-blooming fruit trees.
Materials will be available to make a simple nesting box. Make tunnels by rolling up typing paper, and place a bundle of them inside a recycled milk carton. Please bring along an empty, clean 1-litre carton if you can.
We'll show you the offspring of the bees that used our boxes this spring. We'll be storing the "sleeping" bees in a refrigerator for the winter, to protect them from predation and extreme temperatures, and put them outside in new bee boxes next spring, when they'll wake up and start their life cycle again.