Date: September 23rd, 2019
Time:
Where: Lansdowne Park, Civic Garden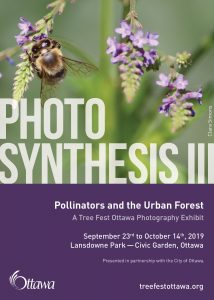 Tree Fest Ottawa photography exhibit, September 23 to October 14.
Images, stories and experiences have the power to change the world.
And we're using that power to inspire people to take action to protect the trees in our environment.
One image, one story, and one event at a time.
Trees hold deep cultural, environmental, functional and emotional significance. They are also essential to our physical and mental wellbeing. Trees in Ottawa, and elsewhere, are under threat: from invasive species, deforestation, urban intensification and other hazards.
Visit Tree Fest Ottawa's web site to read the stories of some of our WPP members, and to learn more about the exhibits and events.