by Renate Sander-Regier and Sandy Garland, photos by Amy MacPherson
Mayor Jim Watson proclaimed June 7 as Pollinator Appreciation Day 2019 at the Mayor's Rural Expo last week.
As part of the ceremony, the mayor also opened City Hall's new pollinator demonstration garden, complete with native plants and a bee hotel. Locally grown native plants from Ferguson Tree Nursery (Butterfly Weed, Lance-leaved Coreopsis, and others) were supplemented with a donation from the Fletcher Wildlife Garden (FWG): Pearly Everlasting, Rough-stemmed Goldenrod, New England Aster, Common Milkweed, Prairie Smoke, Wild Bergamot, and Blue Vervain.
In return, the FWG became the keeper of the proclamation, which is on display at its Resource Centre.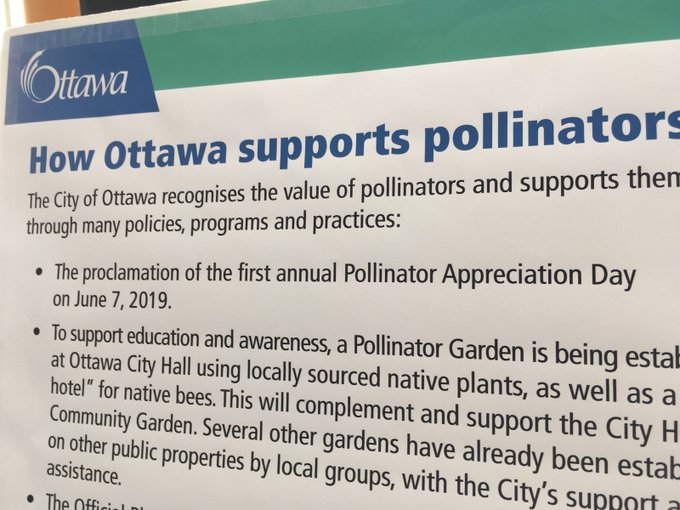 Wild Pollinator Partners was delighted to participate in this event and to contribute to the city's promotion of our native pollinators. As the city says on its web site: "We need pollinators! Pollinators provide essential services to farmers, gardeners, and natural ecosystems. Globally, over 75 per cent of food crops depend on pollination by animals. Locally, our pollinators include hundreds of species of native bees, flies, butterflies and moths, beetles, ants and even some birds."
Ottawa is encouraging residents to
Plant native wildflowers
Don't tidy up too soon
Leave some areas of bare soil
Be knowledgeable when shopping for a commercially produced bee house
Become a citizen scientist
Wild Pollinator partners also participated in the Rural Expo taking place in Jean Piggott Hall and on the Laurier side of City Hall the same day. We talked with a steady stream of visitors, all of whom were interested in helping pollinators. We gave some advice, learned some new information, gave away some seedlings, made some new connections, and generally had a great time.