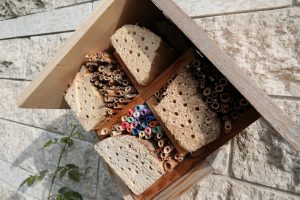 by Amy MacPherson
The City Hall bee hotel is back in business, with a touch of rainbow colours this year in honour of Pride Month!
Ottawa's Mayor proclaimed our third annual Pollinator Appreciation Day on Monday, 7 June 2021, and the pollinator garden at City Hall is buzzing. The common milkweed, asters, and goldenrod are looking particularly robust this year, and a variety of other flowering plants are popping up as well. Many small bee species and other pollinators are visiting the milkweed, bladder campion and hawkweeds currently in bloom.
While cleaning out the bee hotel in preparation for the new season, staff were delighted to see a tiny bee emerging from one of last year's plant stems!
The remaining occupied stems were placed in a large shoebox with a hole in the lid, to allow the rest of the young bees to emerge at their own pace.  The hotel was then restocked with a variety of fresh nesting material including drilled wood blocks, hollow plant stems and colourful paper tubes.  The wood blocks were cut from seasoned lengths of firewood, providing a rustic appearance and avoiding the risk of chemical preservatives.
Visitors to City Hall are encouraged to check out this small but vibrant garden located near the Lisgar Street entrance, and to log any observations of pollinators or other wildlife to iNaturalist.ca.
---
Amy MacPherson is a natural systems planner with the City of Ottawa. She is also a member of our Wild Pollinator Partner network.