Get a head start on this year's pollinator garden by watching a few of the following webinars. Local organizations have gathered a wide range of speakers who will share information, research, as well as practical guidance.
Local webinars
Friends of Carlington & Hampton Winter Web Series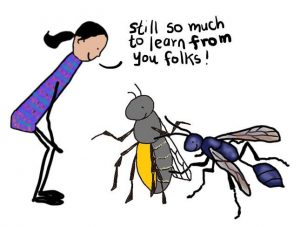 This local community association presents its annual series of Zoom webinars. Registration required. Topics include:
Pollinator Pals, free, Jan 25th 7:30 – 8:30 pm – research findings from University of Ottawa PhD students Susan Gordon and Lydia Wong
Birds of Mer Bleue, free, Feb 1st 7:30 – 8:30 pm – National Capital Commission biologist Alex Stone
Small Spaces, free, Feb 8th 7:30 – 8:30 pm – Carleton University professor Lenore Fahrig how small ecosystems make a big difference
Grow Native Wildflowers from Seed, $10, Feb 15th 7:30 – 8:30 – demonstration of germination techniques, Q & A with local experts
For more information see the December 2022 issue of the Carlington Hampton News.
To view previous webinars on topics such as weeding and urban forestry, visit the Friends of Carlington & Hampton's Youtube channel.
Ottawa Horticultural Society webinar
Native bees and predatory wasps share the same lineage and also share many behaviours and habitat requirements. Speaker Heather Holm will highlight many amazing natural history and biology facts about native wasps, illustrating their nesting habitat, prey specificity, and the ecosystem services they provide — pest insect population control and pollination.
Native Predatory Wasps : Their Role as Pollinators and Beneficial Insects by author Heather Holm, January 24th, 7:30 to 9:00 p.m.
Email to register at the OHS Events page.
Friends of the Central Experimental Farm 2023 Master Gardener Lectures
This year's fundraising lecture series explores the theme of gardening with nature.
Friends of the Central Experimental Farm (FCEF) members and Master Gardeners of Ottawa Carleton: $45 for the entire series, or $10 per individual lecture.
Non-members: $55 for full series, or $12 for individual lecture.
Topics include:
How to Live with What Lives in Your Garden, Tuesday, March 7 – Judith Cox
Getting Started, Taking Stock, Tuesday, April 4 – Rebecca Last 
Your Dreams and Nature's Needs, Tuesday, April 18 – Candace Dressler
Garden Design with Nature in Mind: Basic Steps and Beyond, Tuesday, May 2 – Agnieszka Keough & Claire McCaughey
Create a Beautiful Garden with Keystone Native Plants, Tuesday, May 16 – Josie Pazdzior & Adair Heuchan
To register, visit the Master Gardeners of Ottawa-Carleton.
Canadian Wildlife Federation winter webinar series
Free Zoom webinars. Registration required. Topics include:
To watch past recorded webinars on a variety of topics, such as native plants, invasive plants, gardening for wildlife, pollinator meadows, and attracting beneficial bees and insects, see the CWF's webinar page.
Sundaura Alford webinars
Local Algonquin College instructor and native plant micro-nursery owner shares recorded webinars on her Sundaura Alford Youtube channel. You'll find videos on a variety topics, such as the right to garden/garden bylaws, soil health, winter sowing, permaculture, rewilding & wildscaping, cultural values related to gardening, as well as profiles of individual gardens.
Find information about upcoming webinars on Alford's business Facebook page A Cultivated Art.
Further afield
Blooming Boulevards
Blooming Boulevards is a Mississauga grassroots organization promoting native pollinator plantings. Its 2023 free Zoom workshop schedule is now open for registration.
Low Maintenance Boulevard Gardens, February 18 – 10 a.m.
Design Your Own Pollinator Garden, March 11 – 10 a.m.
Four-season Beauty & Biodiversity, March 25 – 10 a.m.
Wildflower All-stars for Sun or Shade, April 8 – 10 a.m.
Native Plants for Tough Sites, April 22 – 10 a.m.
Small Trees and Shrubs for Small Spaces, May 6 – 10 a.m.
Pollinator-friendly Container Gardens, May 20 – 10 a.m.
Create a Native Woodland Garden, June 25 – 10 a.m.
Goodbye Lawn! July 8 – 10 a.m.
Understanding Your Soil, August 19 – 10 a.m.
It's Easy! Seed Saving 101, September 2 – 10 a.m.
Growing Native Plants From Seed, Sep 23 – 10 a.m.
Best Practices for Pollinators Summit
Presented by the Pollinator Friendly Alliance and the Xerces Society, this 3-day, all-day online conference features "ecologically sound land stewardship practices that promote pollinators, climate resilience, clean waters and lands. Practical knowledge and innovation on pesticide reduction, habitat installation, fostering soil health, pollinator conservation and more."
March 7-9
Details and registration
Tending Nature speaker series
Recordings of several annual Ohio State University's Tending Nature speaker series are available on Youtube.
This free online series features well-known authors and researchers, such as Doug Tallamy and Heather Holm.