by Amy MacPherson
(reproduced, with permission, from the Pollinators page on the City of Ottawa web site)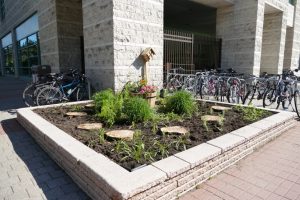 In June 2019, the City of Ottawa established a small pollinator garden in one of its ornamental flower beds at City Hall. The garden features several species of native perennial wildflowers known to be attractive to pollinators, and a bee hotel for native bees. Wooden stepping stones were included to permit staff and partners to conduct periodic surveys of the garden. The City Hall pollinator garden was officially opened by Mayor Watson on June 7, Ottawa's first annual Pollinator Appreciation Day.
Over the following months, the garden flourished. The Blazing Star, Butterfly Weed, and Pearly Everlasting bloomed first, attracting many eager pollinators to the garden. Later in the season, the New England Aster and Rough Goldenrod provided beautiful fall colour as well as nectar. The Lance-leaved Coreopsis, Wild Bergamot, Prairie Smoke and Common Milkweed did not bloom in 2019, but they appeared to establish themselves well and are expected to bloom in 2020.
The bee hotel saw brisk business from several different species of bees, and a couple of wasps too. Bee hotels provide nesting sites for native species such as sweat bees and mason bees. They are not bee hives, which are used to house colonies of non-native honeybees. Most of our native bees live solitary lives, and do not produce honey. Our bee hotel has been taken down for the winter, and will be returned in the spring full of fresh nesting material for next year's guests.
In total, over 40 different species of wildlife were observed using the pollinator garden in its first year. This includes at least 14 species of bees, 10 species of wasps, eight species of pollinating flies, and two butterflies. One of the more notable sightings was a female Monarch butterfly, who stopped by the garden in late July to lay her eggs on the Common Milkweed. Residents are encouraged to report any sightings of wildlife in the garden (or elsewhere in the City) using the iNaturalist app.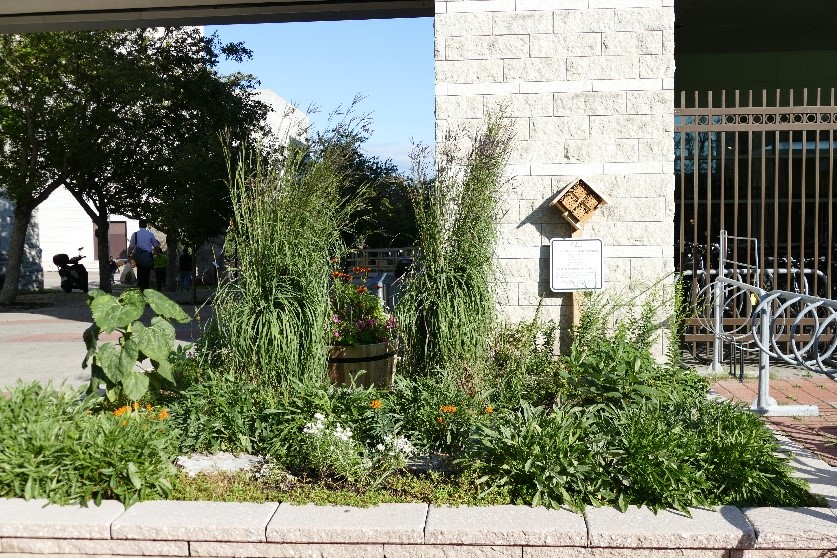 ---
Amy MacPherson works at City Hall as a natural systems planner responsible for environmental studies, policies and guidelines. She is a member of WPP and an enthusiastic supporter of pollinators.